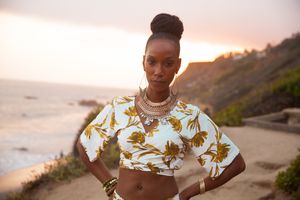 Who Is She?
DeAnna Carpenter is a versatile songwriter, lyricist and author, conveying life through art. Also a trained musician, she plays the harp, clarinet, and piano. Artists such as Amel Larrieux, Prince, Carly Simon, Minnie Riperton, Stevie Wonder and Sade influence her sound, which transcends genres and eras. With fluid originality, DeAnna hopes to give people something they can truly feel.

A native of Detroit, DeAnna credits the culture and history of the city as one of her biggest musical influences. She draws on her years in the Cass Tech High School Marching Band and Florida A&M University "Marching 100" band in creating music that has a full-band and feel-good sound.

DeAnna has performed as a background singer for national and international recording artist, Ugochi and the Afro Soul Ensemble, and collaborates with artists such as J. Mosley and the JME AllStars. She currently resides in Los Angeles, and is the chief engineer of inspiration of her brand and company, She Who Builds LLC.